All India Institute of Medical Sciences Tel: 91-11-26588500, 91-11-26588700, 91-11-26589900
Fax: 91-11-26588663, 91-11-26588641
Notifications
Registration / Login
Choose your desired course and then click on the "go" button to proceed further or to register..
Copyright © All India Institute of Medical Sciences, New Delhi. All rights Reserved.
Entrance Examination - 2012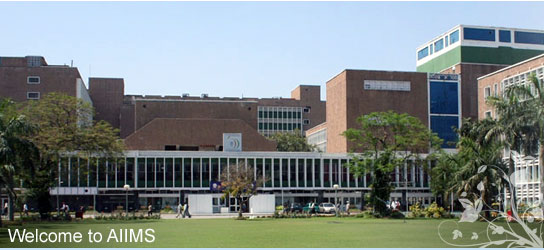 Welcome
All-India Institute of Medical Sciences was established as an institution of national importance by an Act of Parliament with the objects to develop patterns of teaching in Undergraduate and Post-graduate Medical Education in all its branches so as to demonstrate a high standard of Medical Education in India; to bring together in one place educational facilities..
Announcements
Form will be Live from 17/12/2011 till 5th/Jan/2012 5.00 PM.
NOTE:-Candidates of SR/SD Jan 2012 are not required to send any document to AIIMS.The candidates will be required to produce original certificates in support of qualifications obtained/category shown in Registration Slip at the time of interview as per eligibility condition as laid down in advertisement,failing which the candidates will not be allowed for interview and no correspondence in this regards will be entertained.